Spring is coming to the Pacific northwest! Unfortunately that means a few amazing, gorgeous, sunny days are sprinkled in with a lot of gross, rainy, muddy days. As time carries on toward July, the ratio starts favoring the sunny days.
Naturally then, agility this week was on the gross, rainy, muddy day right AFTER the amazing, gorgeous, sunny day this week. 😉
Rain didn't want to get in the car to go to class. She had come so far, and she leaped right in the car last week! But on this day, she seemed to be in a mood and wouldn't even get near the back of the car. I ended up picking her up and loading her in—not my favorite way to get the job done.
We were a little late heading out, and again got to the arena with not a lot of time to spare. We played ball in the pens out back, and it didn't take long for Rain to make her St. Patrick's Day bandana look a little more Erin go Mud than anything else.
Rain inherited a set of holiday bandanas that had been made for Uncle Atticus. The bandanas that fit him best have been a bit too big for her—this one was just right for her, so it must have been a bit too small for him!
Molly started teaching us "go on" in class this week. Essentially this means "do that stuff without me running next to you," so we worked individually using a line of jumps down one side of the arena. Once the dog would go over one jump without us running alongside, we slowly backed up and built on it until the dog could "go on" for four jumps without us.
While we waited for Rudy the papillon, I thought I might try and get some photos of our classmates. Poppy sat for a posed photo, but came to see me as soon as I was at her level. Immediately thereafter, it was Rain's turn. So here's Poppy saying howdy!
Rain took to learning "go on" fairly well once we got a reward going that she was really into. After all of us had several minutes of individual instruction for "go on," we completed class with a short course that ended with that line of jumps. It was time to see how much they had retained their new skill! (Rain got three of the four "go ons" without error!)
After class I did a couple of dog walks with Rain, and Molly lowered the A-frame a bit at my request so Rain could practice a few runs at that too. I was trying to give Rain as much physical and mental stimulation as possible before we needed to head home, and reinforce things she had learned but didn't get to practice at home.
When Poppy and Cedar were about to leave, Rain suddenly decided to bark and lunge at them again! She had been almost totally fine with both of them since our first class together. Between that and Rain's reluctance to get in the car, I chalked it up to Rain being "in a mood."
At times like this, I feel a little like an exasperated Judge Judy: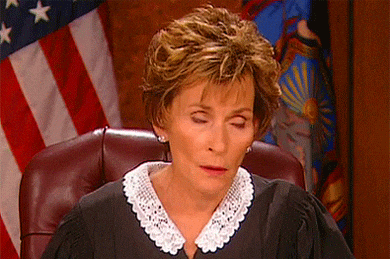 As it would happen, I'd have more Judge Judy moments over the weekend. But more about that on Thursday.